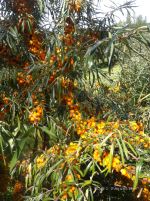 Russian Orange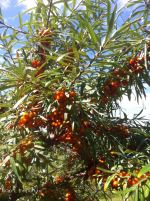 Trophy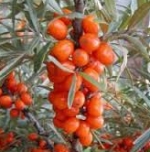 Chuskaya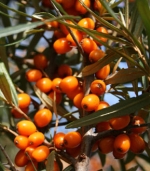 Sunny


The vitamin C concentration of sea berry fruit is 30 times higher than the amount of an orange, 25 times that of a strawberry, and 5 times that of a kiwi. Their vitamin E content exceeds wheat, corn and soybeans. Many people prefer seaberry juice to orange juice, and some enjoy eating the berries fresh off the tree.

Sea berry, Hippophae rhamnoides, are either male or female so males are needed for pollination. Males need to be planted at a rate of 1 male for every 6 females, six feet apart. Sea Berry is wind pollinated and bears approximately 3 years after planting. Sea berry is hardy to minus 40° F, grows in USDA zones 3-9, likes full sun and well-drained soil. Ideal pH is between 6.3 and 6.8. Height 8-12'. Spread 5+'

Please note that some varieties of sea berry sucker, up to 15 feet or more, so should not be planted next to your neighbor's property line! Suckers are best controlled by simply mowing the grass around the bush.
Orange Russian (Otradnaya cv) grows well with a good yield, featuring very large, flavorful, deep orange berries and attractive, grayish green foliage. Orange Russian does fine in areas with long, cold winters and also grows well in mild climates. One of the earliest to ripen. Female plant shipped bare root.
Trophy features bright green foliage, grows rapidly and has few thorns. Trophy also grows well in cold and milder climates. The berry is not among the largest but it is a reasonable size, red-orange in color, and is very nice tree both ornamentally and for fruit. It is our propagator's preferred variety. Female plant shipped bare root.
Chuskaya (Star of Altai) Seaberry boasts larger berries, very good cultivar in limited supply.
Sunny Seaberry features larger berries, very good cultivar in limited supply.

Pollix Male Seaberry
(1 male per 5-7 of the above listed females)






Seaberry Links
Production Guide
International Sea Buckthorn conference, Germany 2013
Himalayan Sea Buckthorn
Fotos of various unnamed bushes.