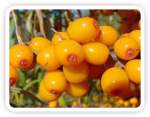 We apologize for selling out of some varieties already, but we are looking at getting a good quantity and variety of seaberry for 2015. If you would like to be put on a waiting list, please contact us.

Sea berry, Hippophae rhamnoides, are either male or female so males are needed for pollination. Males need to be planted at a rate of 1 male for every 7 females. Sea Berry is wind pollinated and bears approximately 3 years after planting. Sea berry is hardy to minus 40° F, grows in USDA zones 3-9, likes full to 1/2 day sun and well-drained soil.

Please note that sea berry suckers, up to 15 feet or more, so should not be planted next to your neighbor's property line! Suckers are best controlled by simply mowing the grass around the bush.

Generic Male Seaberry (1 male per 5-7 females)


Star of Altai™ (Chuskaya cv.) grows 6-8 ft. in height. This Siberia variety bears good crops of unusually sweet, large and reddish-orange berries, and grow better in colder and drier continental climates. Female plant shipped bare root, 1-2' tall.

SOLD OUT

Russian Orange™ (Otradnaya cv) An attractive, vigorous, and productive, medium-size shrub, Russian Orange™ bears abundant crops of very large, flavorful, deep orange berries. Russian Orange™ also features unusually lush, grayish green foliage. This variety is well adapted to regions with long, cold winters and also grow well in mild climates. Female plant shipped bare root, 1-2' tall.




Golden Sweet is an attractive, medium size shrub having an upright growth habit. It is particularly noted for its large and very sweet fruit. It likely originated from Central Asia and takes a little longer to come into bearing than most others, but the tasty berries are worth the wait.

SOLD OUT

Seaberry Links
Production Guide
International Sea Buckthorn conference, Germany 2013
Himalayan Sea Buckthorn
Fotos of various unnamed bushes.