Tundra berries

Berry Smart Blue, Borealis, Tundra July 5, 2016 3
July 11, 2018, 3
July 11, 2018, Zone 3

Ripening: all haskap need approximately 6 weeks from pollination until full ripeness. Blossoms may be pollinated at different times throughout the bloom season, which can run 2-3 weeks, depending on availability of pollinators (bees, other insects) and weather which may accelerate or delay the opening of blossoms and flight of pollinators. So berries do not usually all ripen at the same time but it is quite acceptable to have some tarter berries mixed in with riper ones for processing. Some people enjoy eating tart berries fresh off the bush, others will let the berries ripen as long as possible on the bush. It is difficult to determine ripeness by color alone but if the berry detaches easily, it is most likely quite ripe.

We have a trial orchard with over 40 named varieties and while most of them have good tasting berries, we have selected our favorites to offer to you.



Honeyberries travel very well and usually bounce back from any shipping damage if given a chance. They usually arrive within 1-4 days, but tolerate a week or more in transit, even when leafed out.

Planting: spring or fall
Winter prep: nothing other than normal deer, rabbit and rodent protection
Growth: Some varieties grow faster and taller than others, typically from 1'-2' a year. They put out most of their fresh growth in early spring, then the stems thicken over the summer. They may put out a couple of stems of new growth in the fall, and even the odd blossom.
Mulching: helps with weed and moisture control, but be sure to leave a couple inches free around the stem.
Fertilizer: Moderate applications of time-released fertilizer or aged manure along with regular watering is beneficial.
Shade/Sun: partial shade to full sun (shade recommended for warmer zones). They struggle in excessive heat and dryness, and in overly wet and windy conditions. They have been grown successfully in full sun as far north as Alaska and in the shade as far south as Georgia and California.
Early/Late blooming: Early blooming plants may not set fruit in some west coast or warmer climates due to breaking dormancy too early/lack of active pollinators (e.x. bumblebees) at their blossom time.
Pollination: Order at least one companion variety for every 3-5 other honeyberry plants for adequate pollination.

For a more detailed comparison of honeyberry plants and berries, please see our blog, along with more pics of bushes and berries.


Honeyberry Plants and Cold Hardy Fruit Trees for Sale
Orders received after May 21 will be shipped in late October. See Shipping cost/dates
Early bloomers (zones 2-6) * Late bloomers (zones 2-9)
Bloom Chart * Shipping cost/dates * Wholesale for 50+ plants/species
Facebook Group



Save $ by ordering 10+ plants - use drop-down pricing for total # honeyberry plants of any variety.

Trouble deciding? Click

here

for 4-packs and 6-packs and save $.

Want to order the largest plants we have in stock? Check out Keiko and Tana.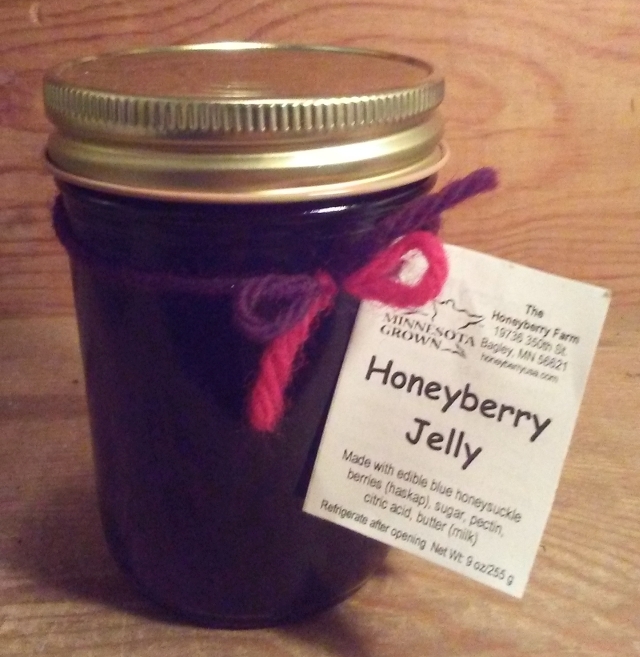 Add some sweetness to your cart!
Honeyberry Jelly $6/jar
9 oz, commercially made


Frozen honeyberries for sale: Juice/wine quality (some stems/leaves)
minimum 30# shipped in 5 gallon food grade buckets
$7/lb + shipping. Please Contact Us


Note that all plants on this page are of the species Lonicera caerulea L. whether they go by the name haskap, honeyberry, or Yezberry®. In general, "honeyberry" refers to subspecies such as edulis of Russian origin, "haskap" to subspecies with some emphyllocalyx / Japanese origin, and Yezberry® of pure emphyllocalyx / Japanese origin. It matters not so much what they are called, but matching the bloom times is critical, as most varieties need a companion for pollination. Each variety will list a recommended pollenizer according to bloom time. For more detailed info on bloom times, click here.

EARLY season selections USDA zones 1-5

(ripen earliest, but largely overlap in bloom with Early-Mid ripeners)
For West Coast and zones 5 where late frosts often occur, and zones 6+, Late bloomers fare better
EARLY-MID season selections USDA zones 1-6

For West Coast and zones 5&6 where late frosts often occur, and zones 7+,

Late bloomers

fare better






* Very large berry 2.7 g
* 5-6' tall, 5+' wide
* upgright and spreading shape
* Pollenizers: Berry Smart Blue, Tundra, Indigo Gem, Indigo Treat, Borealis, Honey Bee

Pros
* Our favorite early blooming variety
* One of the largest berries, with fantastic taste, fast grower and very good productivity
* Balance between low sugar and low acid ratio
* Dry scar (stem detaches easily without "bleeding" juice), fairly tough skin like Tundra
* Early blooming, ripens after Tundra and Indigo Gem, a bit after Borealis, same as Honey Bee
* Upgright growth habit makes for easy picking
* If ordering several plants, we recommend planting the majority Aurora for fresh eating, it is so good all-around!
* Resistent to mildew

Cons:
Uneven ripening

More info: www.fruit.usask.ca/Documents/Haskap/AuroraBorealisArticle.pdf
Videos: first year, sixth year








* Very large berry size, avg. 1.9 g
* 5-6' tall, 5'+ wide
* Early-mid blooming, but late ripening (undesirable taste if picked too early)
* Upright growth habit

Pros:
* Good for fresh eating or processing
* Fruit has an interesting, light tartness
* Plant holds onto its fruit firmly until berry ripens fully
* As berry ripens, stems detach easily
* Very productive (9 lbs after 5 years)
* Leaves are resistant to sunburn and powdery mildew

Cons:
* Produces so many large berries on plants 5 years or older that branches droop towards ground on otherwise upright growing bush!

More info: www.fruit.usask.ca/Documents/Haskap/HoneyBee.pdf
Videos: Harvesting, Evaluation










* Early blooming & ripening
* Mature height 4-5', 5'+ wide
* 1.3 g avg berry size
* V-shaped, somewhat open bush
* Pollenizers: Aurora, Berry Smart Blue, Honey Bee (Honey Bee may bloom later in zones 5-8)

Pros:
* One of the preferred fresh-eating berries for its sweetness and slightly chewy texture, with very good productivity.
* First berry along with Tundra and Berry Smart Blue that we harvest in the spring
* Good for processing
* Very good berry for wine
* Higher yield than Borealis or Tundra

Cons:
* Squatty bush with low hanging branches less than ideal for mechanical harvesting * Mildly susceptible to powdery mildew but doesn't affect fruit harvest

More info: www.fruit.usask.ca/Documents/Haskap/IndigoHaskap2011.pdf
Videos: Evaluation






* Early blooming
* Mature height 4-5', 5+' wide
* 1.29 g avg berry size
* V-shaped, somewhat open bush
* Pollenizers: Aurora, Berry Smart Blue, Honey Bee (Honey Bee may bloom later in zones 5-8)

Pros:
* Fruit high in flavor similar to Indigo Gem
* Excellent firmness, similar to Tundra, but higher yield
* More tolerant of mildew and sunburn than many other varieties

Cons:
* Squatty bush not ideal for mechanical harvesting

More info: www.fruit.usask.ca/Documents/Haskap/IndigoHaskap2011.pdf











* Mature height 4-5' and 6' width.
* 1.62 g avg berry size
* Mid-Early blooming
* Pollenizers zones 1-4: Aurora, Honey Bee, Berry Smart Blue
* Pollenizers zones 5-8: Honey Bee

Pros:
* Excellent berry for fresh eating (if you let it ripen long enough) as well as for jams and jellies.
* Great for dessert wines (highest brix), plus a few stems doesn't matter when making wine :-)
* We average 3 lbs per bush, up to 6 lbs.

Cons:
* Heavy foliage on dome shaped bush makes picking a hide-and-seek procedure
* Berries tend to "bleed" (tear and leak juice) where the stem detaches if berry is not fully ripe.
* Berries get very soft when overly ripe (short picking window)

Videos: 2018 evaluation, 2018 spring, 2016 picking, U of S Video www.fruit.usask.ca/articles/new_varieties.pdf

SOLD OUT






* Mature height 4-5' and 6' width
* 1.49 g avg. berry size
* Early blooming
* Pollenizers: Aurora, Berry Smart Blue, Honey Bee (Honey Bee may bloom later in zones 5-8)
* Earlier ripening than Borealis by a week
* V-shaped, more open bush than Borealis
* Milder flavor than Borealis (less 'zing/tang' than Borealis)

Pros:
* Firm enough for commercial harvesting, yet tender enough to melt in your mouth
* Good for fresh eating as well as baking, we average 2-3 lbs/bush.
* Very easy picking as berries are quite visible
* Berries detach easily from stem (does not easily "bleed", i.e. does not tear where stem detaches)
* Long shelf life (>1 week)
* Excellent berry for wine

Cons:
* Not as high yield as some other varieties
* Squatty, sprawling growth habit not ideal for commercial harvesting

More info: www.fruit.usask.ca/articles/new_varieties.pdf
Videos: 2018 evaluation, 2018 spring











* Medium sized berry, tube shape
* 6-8' tall, 6'+ wide
* Same as Czech #17 honeyberry
* Pollenizers: Tundra, Indigo Gem, Indigo Treat, Aurora, Borealis, Honey Bee,

Pros:
* Tasty tart berries good fresh or processed, when fully ripe are much less tart
* Some people prefer the tangy taste of ripe Berry Smart Blue
* Early blooming, long bloom, fast growing
* Susceptible to sunburn and powdery mildew, but these issues do not affect fruit production
* Some people like to stand and pick the taller bush
* Shake-n-drop (shaking bush to drop berries) works great
* Our max yield: 11 lbs
* Somewhat astringent berry so not our favorite for wine, only 11 brix

Cons:
* Leaves sunburn easily
* Slightly susceptible to powdery mildew
* Early dormancy

* Videos: 2018 Comparison
More Info








Selection Tips




4-11" plants





1-2' plants

Some may be
shipped bare root




1-2' plants 1 season growth
shipped in plugs


You choose early or later bloomers. We will send you a variety (at least 3 different ones in 4-packs and at least 4 different ones in 6-packs). Note: If you are in USDA zones 6-9 we recommend later bloomers as they will ignore mid-winter temperature fluctuations. Zones 2-5 can grow both early and late bloomers.

Honeyberries typically need 3 years of growth to put out enough shoots to produce a couple of cups of berries, and reach maturity after 5-6 years, producing several pounds. Shipping costs range start out at $15-$22.50 for 1-4 items. Each 4 or 6-pack is considered a single item, so you can save on shipping there as well.

Early Blooming: zones 2-5




LATE season selections
7-14 days later than Early/Mid season honeyberries
Grow well in Zones 3-8, trial for zones 2, 9 & 10

Let us help you


decide





Equipment

ATRAX Shaker

De-Leafer

De-Leafer
De-leafer: Roll the berries down the adjustable slope. Attach a woodworking dust collection unit to suck the leaves up. $850 (de-leafer) + s/h manufactured by Indigo Super Tech.

Will need a woodworking dust collection unit (not included) such as the WEN. Has a bag that inflates. Need to remove screen. Maybe General International would work as well, or mayber GI Portable.

Berry bins not included, available from Glacier Valley.

We store frozen berries in 18x36 3mil Poly Bags from Uline Beware these are not reliable enough to remain leak-proof when berries thaw, but they are a nice size to stack into a chest freezer.


Honeyberry / Haskap Waxwing Harvester